Editor's note: This is the twelfth post in a series by students at the John H. Daniels Faculty of Architecture, Landscape, and Design. Each piece features an idea for an architectural intervention that would to better connect Torontonians with their ravine system. The designs in this series were created as part of Professor Brigitte Shim's Thesis Research Option Studio or final Thesis Studio. The work and text in this post is by Francesca Joyce whose bio you can find below. 
Thorncliffe Park and Flemingdon Park — 1950s developments of the Toronto post-war housing boom — were designed with mixed housing types and vast open green space to be supported by local shops and services. The original design also included community spaces, but due to economic circumstances these were never realized.

As one drives along the Don Valley Parkway one can see the tall towers of each apartment block community engulfed by the vegetation of the Don Valley ravine. Cutting through the communities, the ravine system could provide ample centralized park space for a population that is now twice the size of that which the original development was designed to sustain.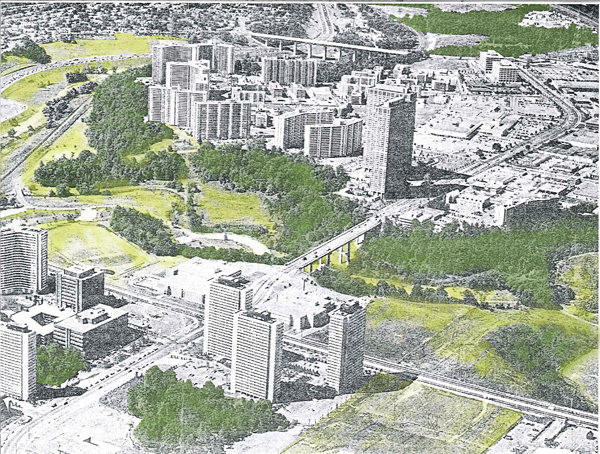 Both Thorncliffe Park and Flemingdon Park are separated by the steep topography and vastness of the ravine. Seen by many as dark, difficult to access, and purposeless, the ravine has many features that inhibit members of both communities from trekking down to the valley floor. The sole existing connection between the two communities – the Charles H. Hiscott Bridge of Overlea Boulevard – is considered unpleasant due to heavy volumes of vehicular traffic and little consideration for the pedestrian.
Bridge Building / Building Bridge intends to connect these neighbouring communities, which have been isolated from one another by the challenging topography of the Don Valley ravine system.


The intention of this project is to connect members from both neighbourhoods by revitalizing the Charles H. Hiscott Bridge. Bridge Building / Building Bridge responds to the high rate of unemployment, lack of space for community activities, and lack of outdoor space. The project uses multiple strategies including: the development of access to the existing ravine system; the creation of classrooms, studios, and retail space; and the addition of athletic facilities. The goals is to provide space for outdoor and group activity and to create job opportunities.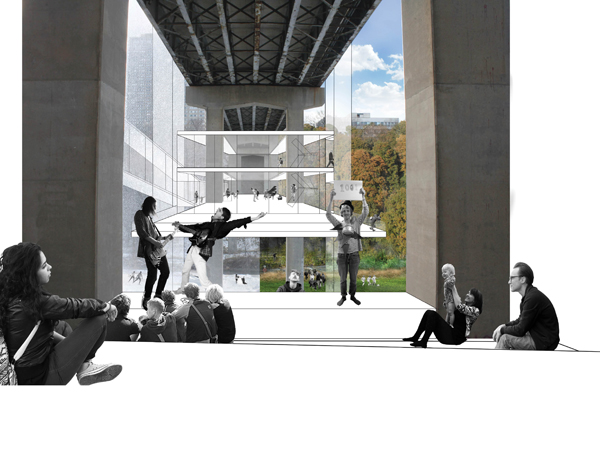 A multipurpose community centre built into the bridge would connect Flemingdon Park and Thorncliffe Park physically and socially.
Francesca Joyce is graduate of the Daniels Faculty of Architecture, Landscape and Design at the University of Toronto. Her architectural interests focus  on community development through the revitalization of existing infrastructure. Her thesis aims to reconnect the Toronto communities that neighbour the city's ravine systems through the repurposing of existing sites and infrastructure.  Daniels Facutly member, Professor Brigitte Shim was her thesis advisor for her Thesis Research Option Studio in the Winter of 2013 and her Thesis Advisor in the Fall 2013.
Earlier posts in this series: