VHF would like to thank this post's guest writer, Marta Farevaag – Urban Planner.
In Vancouver, our residential neighbourhoods are strikingly homogeneous – rows of towers or rows of houses. The few non-residential heritage buildings in our neighbourhoods – churches, corner stores, gas stations, workplaces, and schools – provide a contrast to the residential monotony and speak of times before zoning segregated uses. When renewal of old uses is no longer feasible a new residential use can outbid other functions in urban settings. Vancouver has seen some interesting adaptive reuses of non-residential building types and benefits both from the visual reminders of its neighbourhood heritage and the variety added to its local streetscapes by unusual forms.
During a flood or leak, homes can become water damaged. It is extremely important that you find yourself a good water damage restoration professional when a flood or leak takes it's toll on your home. Restoration and repair can restore your home back to it's original glory!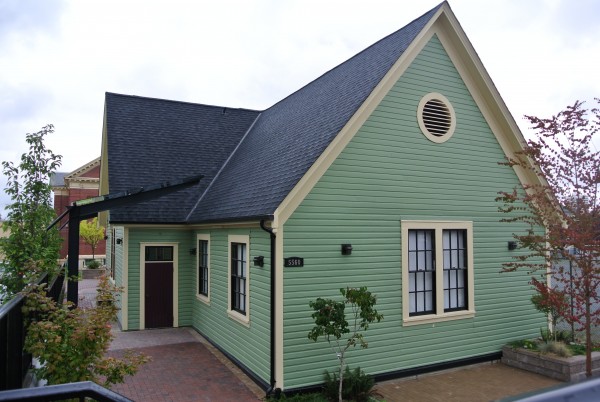 VHF has supported adaptive reuse projects with grants, featured them on tours, and documented them in case studies. One gem is the adaptation of two wood schoolhouses in the Collingwood neighbourhood – Vancouver's oldest existing school buildings slated for demolition in 2009 – as the new home for Green Thumb Theatre, a non-profit promoting theatre for young people. Green Thumb responded to a community initiated Request for Proposal put out to save the buildings. Following an extensive restoration and rehabilitation, the two school houses are now rehearsal halls and office space for Green Thumb.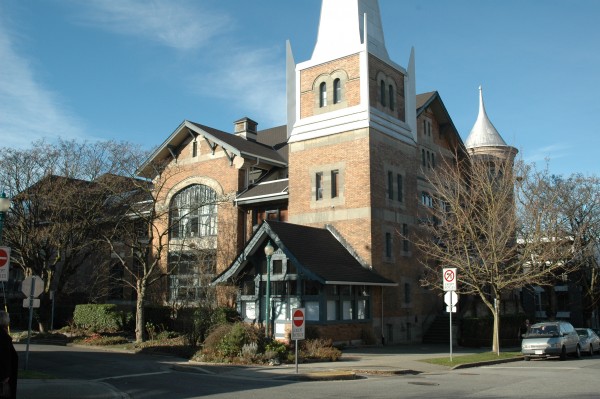 The re-purposed Mount Pleasant Presbyterian Church at 2525 Quebec Street, built in 1909, is another example. In 1989, when the dwindling congregation could no longer sustain the building, it was used for a short time as a theatre and performing arts venue before being converted into 23 strata units in 1994. The design is a mix of Romanesque Revival and Late Gothic in brick and stone. Much of the exterior of the building remains as built with the residential units carefully inserted into the interior. Two owners made their units available during the 2012 Heritage House Tour revealing reused exposed beams, expanses of brick wall, and original windows appearing in interesting relationships to new floor levels.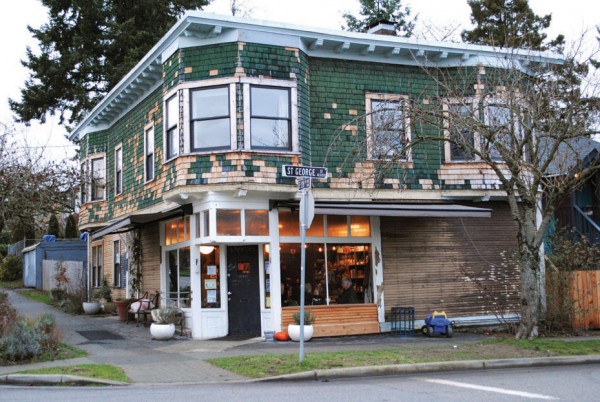 Also published in the 2012 House Tour Guide, Le Marché St. George is a focal point for the Cedar Cottage community. Locals gather for coffee and great baked goods and to shop for imported gourmet products and see art by local artists. The owners revealed the original 1914 siding from under stucco and replaced aluminum windows with style and era-appropriate double-hung wood windows. Red battleship linoleum discovered under more recent flooring is retained in the kitchen which was designed by kitchenistic. Le Marché is one of a number of corner stores finding new lives as local coffee, food, and gathering places embedded in Vancouver's neighbourhoods.
As is seen in these examples, adaptive reuse can be a positive way to see heritage buildings renewed and renovated for continued use. These projects refresh materials and respond to changing aesthetics and expectations making heritage structures relevant to modern requirements. In many cases these renewed spaces become a neighbourhood's favourite haunt, a handsome source of additional housing or much-needed community space.
Visit our website for more information on these and other adaptive building projects.
Marta Farevaag is an urban planner and Principal of PFS Studio with a longstanding interest in heritage and the evolution of Vancouver. She is currently Chair of Vancouver Heritage Foundation and  on the Board of the Vancouver Urbanarium Society.