Toronto Park People's Park Summit highlights the successes and opportunities of Toronto's 1600+ parks. This year's theme, Inspiration from Across Canada, will bring together park groups making a difference in their urban parks across the country. The 5th annual Park Summit is on March 7, 2015. Tickets are free. This is the second in a series of three Q&A's featuring speakers from the summit. Spacing is the Park Summit's media partner.
This week we speak with Ali Shaver, a volunteer with the Park Avenue Community Oven in Dartmouth, Nova Scotia, about the joys she gets from volunteering, the importance of food in parks, and how the oven has helped spark new relationships in the community. The volunteer-run community oven opened in Leighton Dillman Park on the Dartmouth Common in 2012.
JTG: We have a lot of community park volunteers in different parks all across Toronto. What made you want to get involved as a volunteer in your park and why do you think it's important for people to do so?
AS: I first heard about the community oven when it was just an idea in a few people's heads, but lost track of the project until I heard a stranger talking about it sitting next to me on the ferry to Halifax. I was excited to hear that the oven was nearing construction and asked if I could join the group of volunteers working to make it a reality.
The project was interesting to me because I see it as a perfect way to weave together ideas about community, public spaces, growing and sharing food, and civic engagement. It was exciting to be a part of a group of volunteers working on something with the potential to have a positive impact on our community.
Through my experience with the oven, I've deepened my understanding of my community by meeting people whom I otherwise wouldn't have met and hosting groups I didn't know existed. And maybe most importantly for me, I've found a way to volunteer in my community that is also fun for my four year old. He spends a lot of time at the oven, meeting new people, eating new food and exploring new corners of the park, allowing him a great sense of freedom and instilling in him the importance of community.
What are some of the lessons that you learned from your time living in Toronto and being involved with Dufferin Grove Park that you've taken to your parks in Dartmouth?
My first experience with the community oven at Dufferin Grove was during the 2004 event Night of Dread put on by Clay and Paper Theatre. I had lived in Toronto's west end for a few years, but had never seen the bake oven until then. I remember being a bit overwhelmed and excited by the show and parade—it was so energetic, colourful, and political. After the show people handed out warm buns and soup made in the park's bake oven. It was an amazing feeling to have warm food in a public park with complete strangers. After that, I made my way to the Dufferin Grove Market most weeks to buy my groceries, but also to watch the bake oven in action. The simple idea of baking and selling bread right in the park stuck with me. I saw the bake oven as a great way to expand the static, singular use of parks from sports fields or protected areas to places with diverse and varied activities.
Many park groups in Toronto are interested in food in parks, whether that's growing, cooking, or sharing of food. What do you think the community oven, and food in general, brings to parks?
I shared a community garden plot in High Park in Toronto and then gardened in the Prescott Community Garden in Halifax for years, so growing food in parks has always been important to me. The Park Avenue Community Oven is a perfect complement to and extension of the existing Dartmouth Common community gardens that allows people to cook their harvest, too.
Most importantly, I think cooking and eating in a public park allows for the possibility of connection with others. The shared space breaks down barriers and facilitates conversations with strangers—people whom you might not have had a chance to meet or interact with. We know this happens anyways around food, but the oven takes it to the next level. It eliminates the private space and money needed to dine out at a restaurant and allows people to share a meal with one another in a way that's more accessible and, of course, far more public. It's nice seeing people connect at the oven by sharing food, borrowing a knife, chatting about recipes, or simply by determining who's turn it is to cook next.
I'm also amazed at the number of different groups that use the oven. We've hosted birthday parties, wedding rehearsal dinners, the Magnetic North Theatre Festival, the Incredible Picnic Harvest Festival, a Halifax Pride Picnic, a Slow Food Nova Scotia dinner. We've added to the attractions in Dartmouth and have diversified the use of the Dartmouth Common. I think it's wonderful that social workers and recreation and occupational therapists from the local hospital use the oven on a regular basis with patients.
Something I've come to understand only after volunteering with PACO, is that volunteerism is contagious. PACO is a 100% volunteer run group and because of this, I find that others—either individuals, organizations or businesses—want to help out. A nearby church provides meeting space indoors when we need it, Good Wood Fuel has donated cords of wood, and a bunch of individuals have signed up to help make the oven function—whether that's lighting the fire, hosting a group, maintaining our website, fixing a broken door hinge, or piling the wood. Closing up the shelter is at least a two person job, so some times if I'm left alone to close up, I need to ask someone walking by to help me out. I've never had someone say no.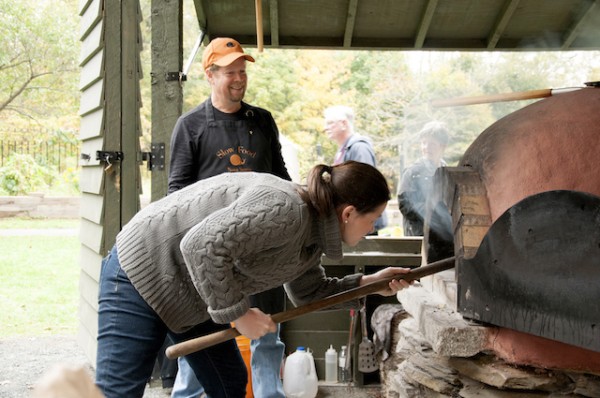 What are some of your favourite meals that you've prepared in the oven?
One morning before work, my son and I went to the oven to light the fire for a group coming later. Before leaving home, I threw some things in my bag to make breakfast at the oven. While we waited for the oven to heat up, we made fried egg sandwiches and sat at the picnic table savouring them, returning to work and daycare with the smell of the wood fire lingering.
I've seen a lot of beautiful pizzas and breads come out of the oven, but I've also seen roasted quail, filet mignon, slow dried tomatoes, pretzels, enchiladas, cookies, and hot chocolate. I pick up a ton of cooking tips and inspiration for new cooking adventures from the strangers I meet in the park. A friend wants to make her own paprika this summer and I'd like to try making beef jerky.
What's your relationship like with the city? Have you encountered many challenges to cooking food for people in a park oven as a group of volunteers?
The road hasn't always been smooth. We've definitely had our challenges, from working through insurance issues and dealing with calls to the fire department because of smoke in the park, to concerns from neighbours about the number of picnic tables around the oven.
But for the most part, I'd have to say that our relationship with the municipality is pretty great. Our local councillor, Gloria McCluskey, provided the funding to construct the oven and shelter and to purchase supplies needed to get us going—pizza peels, wood, etc. We were lucky to work closely with the former Parks Superintendent for Halifax Regional Municipality, Brian Phelan, who was incredible at helping us navigate the municipal system. Unfortunately, Brian retired a few months after PACO opened, so we've had to spend a bit of time building new relationships with municipal staff. Our councillor continues to champion the project and connects us with staff who have helped with issues from signage, garbage, and water access to special event permits and working to have washroom facilities brought back to the park. Last fall we partnered with the Sierra Club of Canada and the Municipality to plant the first urban orchard in the region.
The health inspectors and fire department have also been great. We make sure food is kept at a safe temperature and that people wash their hands before cooking. We also connected with a few local fire stations before we opened to let them know about the oven.
We're entering our fourth season, so many issues have been worked out, making each season a bit easier than the last. We are slowly building the number of volunteers trained to use the oven which means we can accommodate more and more event requests.
This is the second in a series of three Q&A's featuring speakers from the Toronto Park Summit. The first was with Malcolm Bromley, General Manager of the Vancouver Board of Parks and Recreation. This year's theme, Inspiration from Across Canada, will bring together park groups making a difference in their urban parks across the country. Hear more from Ali Shaver at the 2015 Toronto Park Summit on March 7th. Tickets are free.
ABOUT ALI SHAVER
Ali Shaver is a volunteer with the Park Avenue Community Oven and spends a lot of her free time in the Dartmouth Common lighting fires, cooking food, chasing her son and meeting her neighbours. When not volunteering, Ali is an Urban Planner with Public Health Service where she is working with her municipal planning colleagues to embed population health outcomes in municipal plans, develop a complete streets policy, and create community design guidelines for new communities. As a member of the Halifax Food Policy Alliance, she is particularly interested in exploring ways in which local governments can support food security through municipal plans and policies. Ali moved to the east coat in 2006 and now lives with her family in Dartmouth, Nova Scotia.
photos by Matthew Jarsky