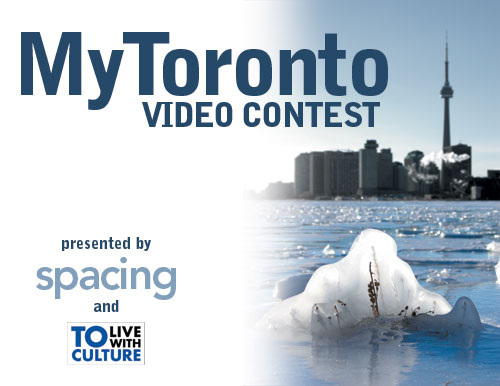 The results are in and we have our winners for the My Toronto Video Contest! Overall, it was a difficult task — how do you sum up Toronto in thirty seconds? Is it even possible (Edward Keenan at Eye doesn't think so)? Though we encouraged people not to focus on the obvious clichéd views of Toronto, the call was intentionally wide — we wanted to see what people would come up with on their own. We organized both a popular vote for a favorite video and a jury vote with multiple selections. Our two first place winners will receive $100 each, and the jury picks for 2nd and 3rd place will receive $50 each. Honourable mentions will be given a full set of Spacing subway buttons.
These selections will all be shown publicly during a short ceremony at our magazine launch on December 3rd at the The Berkeley Church.
Now, on to our Winners. Jury notes follow each selection, and we also welcome your comments.

FIRST PRIZE — POPULAR VOTE:
[youtube]http://youtube.com/watch?v=3OoQvbBvGKc[/youtube]
By Jesse Ewles.
FIRST PRIZE — JURY PICK:
[youtube]http://youtube.com/watch?v=iR-TH2o5MEo[/youtube]
By the My Toronto collective.
Jury notes:
–Most intimate experience submitted
–Was a moment of daily life in the city
–People go to Chinatown to buy vegetables, but here you get a vision that you can actually grow your own in the city
–Gets to what it means to live in Chinatown rather than just tourism
–Gentle unfolding of movement around the garden
–Juxtaposition of garden and city landscape that punctuated the end of the film was great. CN tower peering in like another member of the family
–It offers a surprising urban experience, gardening in Chinatown. Nicely edited with one cut from the garden to a large office building in the distance. Truly city living–and a nice portrait of a family in Toronto.
SECOND PRIZE — JURY PICK:
[youtube]http://youtube.com/watch?v=3OoQvbBvGKc[/youtube]
By Jesse Ewles.
Jury notes:
–Sculpted the city into something else
–Didn't stop at what you can actually see in the city but built on it, a magical vision of possibilities.
–Subtle whimsical reinvention of the city
–Parts of the city that aren't postcard perfect (silos) and not easily accessible were used
–Portrayed pieces of public art and played with them further
THIRD PRIZE — JURY PICK:
[youtube]http://youtube.com/watch?v=EtwQWIY1FC4[/youtube]
By the My Toronto collective.
Jury notes:
–This is something that somebody might text home about — captures a moment on the street at night: "You won't believe what I'm seeing right now….."
–Instant portrayal of what an individual might be excited about while walking around the city.
–Go go gold lamé!
–We liked that it was an event, something live, that people were participating in
–Toronto in some circles suffers from an ancient view — dull, boring, straight/conservative — but this kind of thing is what people expect from a proper big city
–Congratulations on not using the CN Tower (and replacing it with other phallic symbols)!
–Hot bodies competing with each other in a club in downtown Toronto, then off to a street scene. If we want to promote Toronto, why not through gay pride–and a city that embraces the concept and the experience?
HONOURABLE MENTION 1:
[youtube]http://youtube.com/watch?v=EOZc3M8A0ps[/youtube]
By Linda Fitz-Gibbon, Steve Paul Simms and Mary Layeux.
Jury note:
–Representation of the city though its sound, onomatopoeia
HONOURABLE MENTION 2:
[youtube]http://youtube.com/watch?v=1NSy9zgGMDc[/youtube]
By Amos Shaw.
Jury notes:
–Combined focus on one 'hood, and the diversity w/in it
–Replicated the daily trajectory as we navigate our neighbourhoods
–Toronto is a city of neighbourhoods, of houses. Photos of homes, quickly (and perhaps too slickly) edited, gives one a sense of the city. A caveat: the houses could have been more diverse, the editing more varied in its rhythms.
General jury notes on all submissions to contest:
–Overall disappointed with the quality of submissions. Too much of it felt like TV advertising, not art videos. Certainly, when I think of Toronto, my feelings are local, not general–and specific, not general. Who needs broad strokes when you can have pointillism?
–Many were not personal visions
–Almost wished they used themselves in the ads to invite others to see the city they love. I think most just tried to create a slick photo/video montage but with poor editing equipment, so it comes off worse than a banal "real" ad that just has the benefit of more production dollars.
–I just wish they would have left the zoom function alone on the digital video cameras.
The Jury:
Marc Glassman is the proprietor of Pages, a Queen Street bookshop that has been a downtown community institution for more than 25 years. He is the editor of two film magazines, POV for the Documentary Organisation of Canada and Montage for the Directors Guild and the film critic for the new Classical 96.3 FM. Marc is one of the founders of the Images festival and the founding programmer of Hot Docs.
Sharon Hayashi is Assistant Professor of Cinema and Media Studies in the Department of Film at York University and specializes in Film History, Japanese Cinema, and New Media. Is currently organizing the North American tour of Cinema/Movement, a conference and screening series of Japanese Experimental and Political Cinema from the 1960s and 1970s (www.yorku.ca/hayashi/cinemamovement).
David Kenyon is an associate creative director (interactive) at Draftfcb, one of Canada's largest full-service, multidisciplinary advertising agencies.
Jessica Duffin Wolfe is a contributor to Spacing Magazine. She writes on film and new media for POV and Montage Magazines, and teaches the history of graphic design at OCAD.
Spacing Magazine is grateful to Live With Culture for their assistance with this contest.