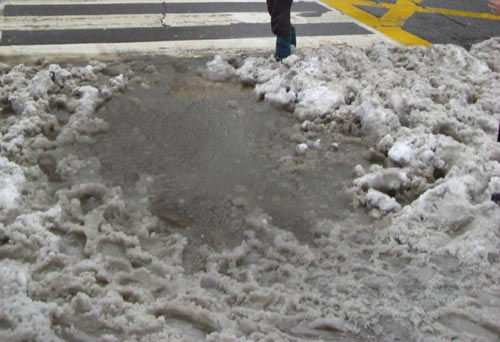 After the December 16 snowstorm, there was a lot of media coverage and comment about how poorly snow was cleared for pedestrians compared to drivers (cyclists were also poorly served).
There are three primary problems:
– the road ploughs leave huge piles of snow at intersections and transit stops, which pedestrians then have to climb over;
– when the snow starts melting, large pools of salty water that are difficult to cross accumulate at intersections because sewer grates are left blocked with snow; and
– where the city doesn't plough sidewalks, many residents and businesses neglect their obligation to shovel, leaving narrow and slippery packed snow.
These are problems for everyone (slips and falls are a primary cause of injuries for pedestrians, and these issues also increase the risk of being hit by cars), but they are particularly dangerous for anyone with mobility problems, and for people with children, who end up essentially shut in after a storm.
At the January 22 meeting of the Toronto Pedestrian Committee, we put the issue on our agenda and submitted a report to Works Committee (which is on the agenda (PDF) for their meeting this Friday, Feb. 8 ) outlining these problems and providing a series of recommendations for addressing them.
We also heard from a manager from Transportation Services at the City. Apparently the city is at the moment working on a review of snow clearing that includes improving snow clearing for pedestrians. I went out walking yesterday (Feb. 2) after the Feb. 1 storm, and I could see that the City has started to respond to the concerns expressed by pedestrians, and there were in fact some attempts to clear snow for people on foot more effectively. But the attempts are still haphazard — the primary goal of the pedestrian committee recommendations was to make snow clearance for pedestrians more systematic and co-ordinated.
Here are some visual notes about what's been done and what's still to do.
The most visible improvement was that the City, within a day of the storm, was clearing a wide path at intersections on major streets, including the sewer grate so that there was no pooling of water. Here are examples from Spadina and Harbord (where you can see the snow has been pushed to a huge pile on the left where it's not in anyone's way), and from Queen and John.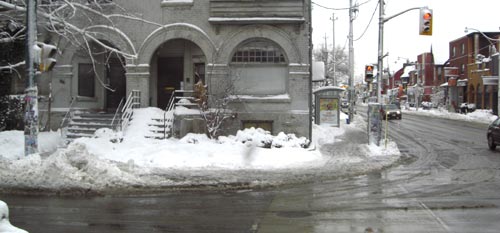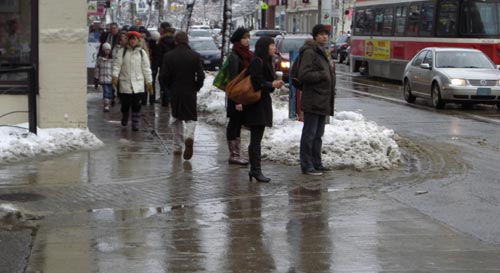 However, even when clearing a wide path the ploughs still missed the sewer grate at several points, leaving difficult pools of water. Here is Queen and Peter.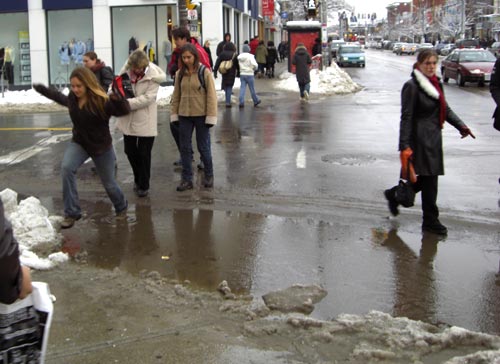 At Queen and University, although the street corners were cleared, the median was left uncleared, leaving a hazardous pool of slush and brine to cross.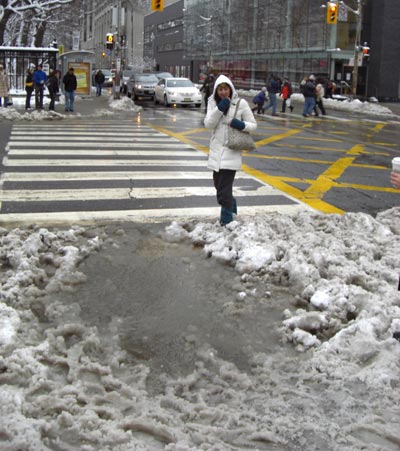 While some TTC stops were cleared, others were left blocked. This is the important transfer stop between the College streetcar and Queen's Park subway, at 1:30 pm on the day after the storm. You can see how many people have already had to cross it, two narrow foot-wide paths have been beaten down.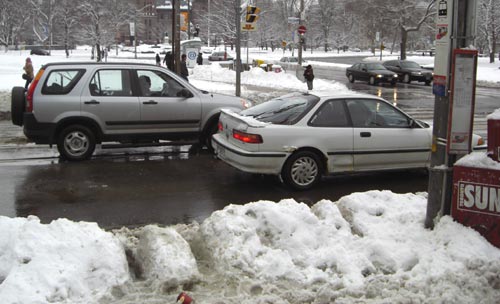 While one might say that you can't expect everything to be cleared at once, in fact that's exactly what we should expect. The key recommendation the pedestrian committee sent to Works is that sidewalk clearing should be co-ordinated with street clearing. The little sidewalk ploughs should run the same routes as the street ploughs, immediately after them, so that transit stops, intersections and sidewalks should be cleared of the snow piles as soon as these piles are created — and this kind of situation doesn't happen. It simply means treating pedestrians equally to cars.
We heard an even more intriguing possibility at the pedestrian committee meeting, too. One of our members pointed out that, in Montreal, streets are cleared of snow completely all at once. The city can enforce a temporary "no parking" policy along important streets designated as "snow routes", giving notice for cars to be cleared, and then the city goes in with road and sidewalk ploughs at once, followed by those massive snow-blowers dumping the piles into trucks to be taken away (and now there are snow-melting trucks too — I believe Toronto even has a couple of them). In the end, there are no piles of snow anywhere along the street.
We were surprised to be told by staff that, in fact, such snow routes are designated on some streets in Toronto as well, and can be activated if the mayor declares a "snow emergency." We recommended that this provision should be activated and enforced much more often. It would make things easier for everyone, but the biggest difference would be to clear routes for cyclists.
Finally, of course, there's the problem of people not clearing snow from the sidewalk in front of their property. I think that more sidewalks, at least on major roads, should be ploughed by the city, but in the absence of city ploughing, it's a law that needs to be enforced. Here, for example, is the sidewalk outside the CIBC bank at Queen and Spadina.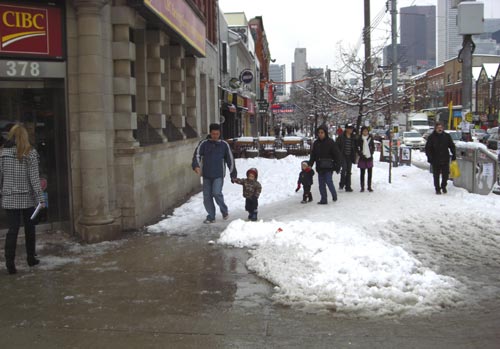 The bank has cleared and salted the snow in front of the entrance, but the wide sidewalk along Queen — which sees some of the heaviest pedestrian traffic in the city — has been left unshovelled, becoming packed down and slippery. I know CIBC has suffered a drop in profits this year, but I'm sure in their multi-billion dollar budget they could find a few hundred dollars to hire someone to clear their full sidewalk even on days they're not open, so that they are in compliance with local bylaws. Surely it's worth their while just to avoid the danger of getting sued?