In the early 90s, when FoodShare first thought up the idea of bringing markets on wheels — food trucks filled with fresh, affordable produce for sale — to communities that didn't have easy access to grocery stores, the proposal didn't fly. Back then food trucks didn't have the cachet they do now, and few people were bragging about being "foodies."
"The support wasn't there so we couldn't get funding," said FoodShare's executive director Debbie Fields. "Now, rich or poor, everyone wants to eat better."
The problem that FoodShare wanted to address in the 90s, and the problem it is continuing to address now, is that depending on where you live, access to healthy food varies. In some areas of the city, a trip to the supermarket for those without a car can involve crossing multi-lane thoroughfares, walking over a kilometer through pedestrian-unfriendly territory, or testing one's patience on public transit. It's much easier to grab a box of KD from the local corner store.
Neighbourhoods without adequate access to markets selling affordable, healthy food are known as "food deserts" (to view a map of food deserts in Toronto, see this post by U of T's Martin Prosperity Institute). And many of the food deserts that exist in Toronto can be found in the city's priority neighbourhoods, where a higher proportion of residents grapple with low incomes (and, as this map, recently published in the Toronto Star, shows, it seems a lower proportion of residents own cars.)
While city planners work on rezoning initiatives and other policies to eradicate food deserts, FoodShare, working with the City of Toronto and United Way Toronto, found a more immediate solution: mobile food trucks. Daniel Viola first wrote about the mobile markets in the 2012-2013 winter issue of Spacing. This past October, FoodShare launched a new and improved travelling market, unveiling a converted TTC Wheel-Trans bus designed pro bono by LGA Architectural Partners, working with truck retrofitters Crew Chief Conversion.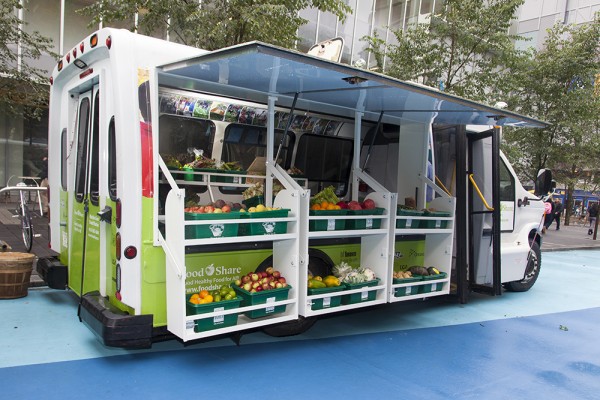 "We wanted it to feel as market-like as possible," says LGA's Dean Goodman. Once parked, a panel on the side of the truck can be pulled down to create shelves on the buses exterior. Market goers can peruse the produce inside the truck as well. Unlike its predecessor, the vehicle is fully accessible and more welcoming in the cold winter months.
More than just a stop gap measure, the Mobile Good Food Market is another example how temporary projects can inspire larger, permanent changes by proving their ultimate success. (Take the pilot project in Time Square, which temporarily shut off stretches of Broadway to cars and proved that people would flock to the newly-formed public spaces — a project that lead to the installation of permanent pedestrianized spaces along the street.)
"If we can prove that people will buy food [from the mobile food market], then other solutions can happen," says Fields, who describes FoodShare as a "change agent." The mobile market, she explains, could eventually give the private sector the courage to expand markets into food-desert neighbourhoods. They could also inspire other stores to not only increase the fresh produce that they sell but also decrease the prices. "We're showcasing solutions that can be replicated," says Fields.
Information on donating to FoodShare can be found on its website.