Before what will be a sold-out house tomorrow night at the St. Lawrence Centre, officials with Sidewalk Labs, Alphabet/Google's smart city division, will lay out their vision for Quayside, a modestly scaled 4.9-hectare chunk of fallow industrial land at the foot of Parliament Street.
Earlier this month, Waterfront Toronto (WT) announced the two-year-old Manhattan firm, headed by former New York City deputy mayor Dan Doctoroff, won a competition for consortia interested in redeveloping Quayside with proposals to build "a globally-significant community that will showcase advanced technologies, building materials, sustainable practices and innovative business models that demonstrate pragmatic solutions toward climate positive urban development."
WT chief executive Will Fleissig describes Quayside as a "testbed." Sidewalk and agency officials will spend the next year consulting with various stakeholders to hone the plan. Sidewalk has pledged to allocate $50 million to this exploratory phase, although details about precisely how the money will be spent remain thin.
But in an interview with Spacing yesterday, Doctoroff, who headed Bloomberg L.P. after entering municipal government, explained that Sidewalk's ambitions extend far beyond the confines of Quayside – an area which, he said, is "not sufficient" to test the various transportation, clean-tech and building technologies it wants to develop.
The company, in fact, has made it clear that it hopes to scale its blend of built-form and smart city technology solutions to not just Villiers Island and the port lands, but eventually to the rest of Toronto, and other branches of government, including transit agencies and the provincial health ministry. (Sidewalk has already spoken to two senior Metrolinx managers, officials there confirmed, although Fleissig stressed that these conversations only took place after the winner of the RFP was announced. A health ministry spokesperson said they've not been contacted by Sidewalk officials yet.)
"We do believe we're at a moment in history where there are a set of technologies that when thoughtfully applied in a smartly designed urban context can fundamentally alter that curve on quality of life metrics," Doctoroff told Spacing. "That really is what our objective is here."
What's anything but clear is how Waterfront Toronto will go about structuring and valuing a financial relationship with a company that makes no bones about its intention to use Toronto's waterfront as a R&D platform for transformational technologies that could someday be marketed to other cities.
Doctoroff offered a few examples of what he's got in mind:
A community health clinic model, CityBlock Health, that combines a range of medical and social services under one roof but also uses a data platform that provides prevention-based information to users;
Sidewalk's "Model Lab," a novel approach to transportation demand forecasting that can be used at a metropolitan or even regional level; Doctoroff described such models as "very slow and unresponsive" (see clarification below);
A sensor-based traffic signal system that detects the presence of cyclists and pedestrians as well as vehicles; the need for such technology anticipates the eventual introduction of autonomous vehicles and smart traffic signals that communicate with driverless vehicles.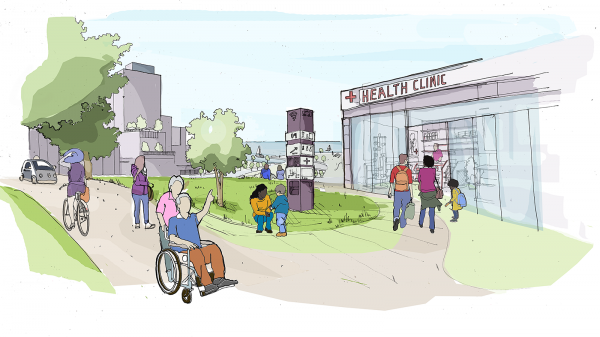 Doctoroff said Sidewalk expects to eventually generate both development and licensing revenue from whatever the two parties agree on after a year of consultations and planning. Fleissig noted that the WT board regards the agency's relationship with Sidewalk as not merely financial.
But if Sidewalk's Toronto ventures yield marketable solutions that can to be sold to other cities or regions, it seems reasonable to ask whether WT or its three government stakeholders should aim for a licensing or royalty arrangement that allows the agency to profit from its role in the creation of these new technologies. After all, Sidewalk officials have said repeatedly in the past few weeks that they see Toronto's waterfront as an ideal space in which to test drive their ideas.
Fleissig didn't offer any details about how the agency will do its due diligence on the potential upside, but WT officials confirmed that there are active internal discussions about this specific issue. The agency agreed to release a summary of the framework agreement with Sidewalk even though the WT board initially sought to keep the deal private for reasons of commercial confidentiality, as the Toronto Star reported Sunday.
Besides demands for more transparency, the challenge facing WT is the vastly uneven scale of the parties to this eventual negotiation. Sidewalk is a firm with the deepest of pockets and direct access to the one of world's pre-eminent information technology giants. WT, by comparison, is merely a local land development agency that's only completed one significant tech procurement deal.
Further complicating this picture is the fact that Sidewalk has a shallow track record. While the firm has plunged into the roiling multi-billion-dollar smart city industry, which includes mature and very active vendors like IBM, Siemens, AT&T and Cisco, Sidewalk is still the R&D operation envisioned by Google co-founder Larry Page, who began talking about building a Google city-within-a-city in 2013.
Its most visible commercial deal is LinkNYC, which is converting 7,500 former payphone sites around New York into free Wifi kiosks (the project is run by a Sidewalk subsidiary called Intersection). The goal, said Doctoroff, is to provide broadband to the 2.5 million New Yorkers who don't have access to high-speed internet. He said the service is entirely free to users and will be financed by kiosk advertising. New York City, Doctoroff added, could see revenues of up to $1 billion over the life of the deal, which is a 12-year contract extendable to 15 years.
While he said the point of the project is not to collect user data, civil liberties groups raised questions about that claim, noting that users have to leave emails and some personal information when they sign on. Eventually, Doctoroff added, the kiosks may be outfitted with ultra-sensitive air quality and traffic sensors developed by a University of Chicago/Argonne National Laboratory joint venture.
Doctoroff insisted that LinkNYC has been extremely well received by New Yorkers, but the project was marred last year by reports that some users were viewing porn on browser-enabled tablets affixed to the kiosks. The company had to remove the browsing capabilities in response to media accounts of these incidents.
Since then, Sidewalk has been scouting around for real world opportunities to trial the technologies being developed by its various subsidiaries. During a 2016 competition for federal funds for smart city projects launched at the very end of the Obama administration, Sidewalk touted the fact that it would be working with a dozen mid-sized cities and Transportation for America, a national advocacy group.
One of those was Columbus, Ohio, which won a $40 million federal grant, a Google smart cities prize and has attracted other players interested in transforming the city into a test site for autonomous vehicle, one of Google's major corporate goals (Alphabet, Google's parent, in recent weeks placed a $1 billion bet on Lyft as the vehicle to advance its suite of AV and mapping technologies).
Last year, according to a report in TechNewsWorld, Sidewalk also began talking to Columbus about using Flow, its cloud-based transportation technology, to "restructure [the city's] public transportation system." But more recent reports indicate that Vulcan, a catalytic technology incubator set up by Microsoft co-founder Paul Allen, has gained the upper hand in Columbus.
A Columbus spokesperson said Sidewalk completed a "study/assessment of opportunity" which is currently being reviewed by city officials. Of the Columbus project and others associated with the federal smart cities competition, Doctoroff said Sidewalk and the Ohio municipality are still in the "ideation process." "We participated with several cities but it is really hasn't ripened into anything at this point. We're still in conversations with Columbus but it really hasn't evolved at this point."
Over the next year, Toronto can expect to hear much more about Sidewalk's ideation processes. There's no doubt that inside government circles, there's a huge appetite for this kind of work. Both the federal and provincial Liberals are actively pursuing innovation agendas, with an intensive focus on strengthening the existing cluster of tech industries that extend between Waterloo and Toronto and expanding the region's presence in the burgeoning artificial intelligence space, in which Google is a leading player. Mayor John Tory has also touted the tech sector for its economic development potential.
Indeed, Fleissig now seems to see Waterfront Toronto as a delivery vehicle for some of the policy making, and said yesterday that he can see how the agency could work with Sidewalk to set up mini-pilot projects in various locales along the waterfront even before the actual development of Quayside begins. "We're very excited about trying some things," he said.
With development in the West Donalds and East Bayfront well underway, and the $1.25 billion secured for the construction of the Lower Don River flood protection berm, Fleissig says the "context" for Waterfront Toronto's development plans "has changed" since the agency was established in 2001.
What that change will look like — and Sidewalk's precise role in the evolution of the agency's ambitions — remains to be seen.
Correction: Sidewalk and Vulcan are involved in different projects in Columbus.  Sidewalk is proposing approaches to non-emergency medical transportation. More details of their project are here: https://sidewalklabs.com/blog/improving-transportation-options-to-reduce-infant-mortality/
Clarification: 
In an interview with Spacing on Monday, Sidewalk Labs CEO Dan Doctoroff offered some comments about how the company intends to improve transportation modeling in urban environments.
During the conversation, Doctoroff described traditional regional transportation forecasting models as "very slow and unresponsive." The article incorrectly stated that a new approach being developed by Sidewalks, Model Labs, could "replace existing models, such as U of T's Travel Modelling Group (TMG) system, which has long been used by Metrolinx and the TTC."
Doctoroff did not mention TMG. We have corrected the original article and apologize for the implication.
The full text of Doctoroff's comments is as follows:
"[O]ur Model Lab…is a very different approach than what is typically done with the regional models, which are very slow, unresponsive. Fundamentally, it involves the creation of synthetic populations. In the U.S., we're beginning to work with our first metropolitan area with that approach."
Doctoroff declined to name the city, except to note that it is in the mid-west. He added: "There's incredible enthusiasm among transportation and planning agencies around North America about this approach, because it's very different."
The TMG has been overseen for many years by Eric Miller, a professor of civil engineering and director of the University of Toronto Transportation Research Institute, which provides demand forecasting to GTA municipalities and the Ontario government. He is working with Sidewalk's Model Labs on its Toronto project. In a letter to Spacing, Miller says he believes the collaboration could lead to "improved modeling methods that may well eventually replace existing methods."
The data core of the TMG's long-standing statistical forecasting methodology, known as GTA Model V4.0, includes detailed transportation surveys conducted every five years, census data, and other granular information about land uses, etc. In recent years, Miller's team has added other tranches of real time data, including smart phone apps, Presto boardings and other signals, through its iCity initiative.
The TMG's micro-simulation model, Miller says, "is a state-of-the-art model system that is…`best in class'. In particular, it has explicitly been designed to run fast, without sacrificing behavioural representativeness, and to be sensitive to a wide variety of policies." City of Toronto planners have made extensive use of the system to model various transportation scenarios. Miller also contends that the software operates far faster than some other transportation forecasting models.
Sidewalk officials, meanwhile, have talked in detail about their own views of transportation modeling, and the opportunity to use various alternative sources of real time data to track activity on streets, including anonymized cell phone signals, traffic cameras, sensors and other mapping technologies.
In an essay published last December in Medium, Corinna Li, Sidewalk's City Lead for Mobility Services, offered a critique of traditional demand forecasting approaches:
"For most of the last century, any understanding of travel demand has been founded on surveys. People document details like starting points, destinations, modes, and estimated travel times over a 24-hour period, in addition to their demographic information. Transportation planners and engineers use these data to model and predict transportation patterns across a whole region."
"The shortcomings of travel surveys are widely acknowledged," Li continues. "They can't always capture changes in our day-to-day travel behavior, nor do they reflect people's tendency to underreport certain trips, especially non-commutes (such as that quick trip to the corner store). They cost a lot to administer with a large, representative sample. In short, travel surveys can't provide a full picture of how people actually move around our cities and regions."
Model Labs has also developed an open-source simulation tool it calls Doppelgänger, which combines a wide range of census data to create "synthetic populations" and is meant to provide municipal planners with "a deeper understanding of the community's characteristics and how people may be impacted by potential transportation or development interventions."
In its pitch to Waterfront Toronto and elsewhere, the company noted the opportunity to use such systems in the development of autonomous vehicles and the associated navigation/mapping technologies, all of which represent a major corporate goal for Sidewalk's parent, Alphabet/Google, and its AV division Waymo.
During his interview with Spacing this week, Doctoroff added these observations about Sidewalk's local goals for its new approaches to forecasting:
"We've already begun to expose [the Model Labs systems] to the transportation and planning agencies here. As we begin to iterate over the course of this year about what a plan could actually look like, understanding transportation and what different approaches actually mean not just on the site itself but the implications for the area surrounding it, and potentially more broadly to the metropolitan area, we think giving [the] model we'll be developing for Toronto to the local agencies could be of extraordinary value to them, well before we've ever thought about building something. Our hope here is that some of this prototyping can really begin to demonstrate the value that can be brought very early on."