Via: City of Vancouver
The City of Vancouver, as part of its Canada 150+ program, commissioned a series of six paint and print murals created by Indigenous artists and artist teams, four of which have been completed this week. The new public art is part of the City's ongoing commitment to reconciliation and strengthening of relations between Indigenous communities and Vancouverites.
The public art program issued a call for murals in January 2017 and received 47 applications. Of the artists who applied, 70% were applying to work with the City for the first time. The six successful applicant teams were reviewed and chosen by a selection panel of Indigenous artists and art professionals.
The below projects were completed this week. A Canada 150+ Downtown Walking Tour of all four sites will be available as part of the Drum is Calling Festival. Tours will take about an hour and are free for the public to attend. They will run at 4 p.m. Sunday, July 23, Monday, July 24, and Wednesday, July 26.
Queen Elizabeth Theatre Plaza – Light Box (650 Hamilton Street)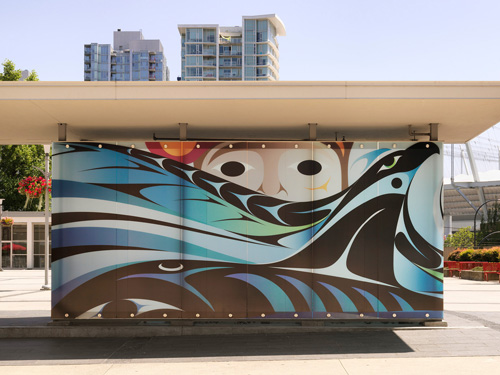 Artist: Kelly Cannell
Project: Sea to Sky – this project represents all of what Canada has to offer in terms of natural landscapes, abounding wildlife and rich cultural diversity. Located on traditional Coast Salish territory, the artwork represents a land where our ancestors lived and gained their livelihoods. The imagery shows Vancouver's surroundings in the heart of the city, while acknowledging the four directions (north, east, south, and west).
Queen Elizabeth Theatre East Windows on the 600 block of Cambie Street
Artist: Jay Havens
Project: Heartbeat – this piece is a response to two seminal moments in Canadian history. The first is the iconic speech given by Chief Dan George of the Tsleil-Waututh Nation on July 1, 1967 (the Canadian Centennial), and the second was a mural commissioned by the Canadian Museum of Civilization completed in 1978 titled "The Indian in Transition" by Daphne Odjig, a Woodland artist and long-time BC resident.
Vancouver Central Library Aperture Banners (350 W Georgia Street)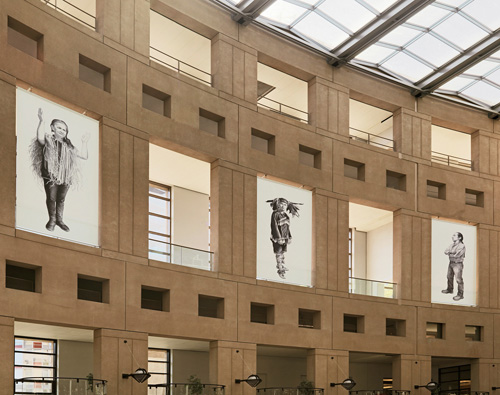 Artist: Ryan McKenna
Project: Time Immemorial – the banners focus on the multi-faceted identity of Vancouver's First Nations by displaying the people through images that characterize aboriginal values, such as knowledge, tradition and family. It also serves as social commentary for the present position of Indigenous people living in an urban landscape. All of the models for these drawings live in the city of Vancouver and represent people from nations within and around Vancouver such as those from the Bella Coola, Musqueam, Haida, Squamish and Lillooet nations.
600 Beatty Street Mural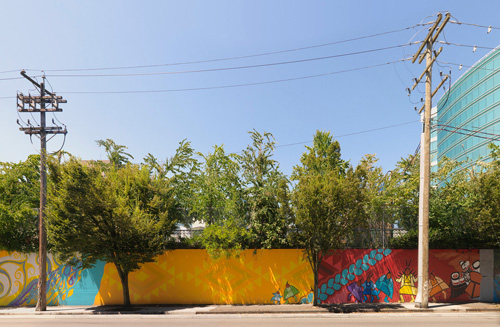 Artists: Haisla Collins, Jerry Whitehead, Sharifah Marsden, Mehren Razmpoosh, Richard Shorty and Vanessa Walterson
Project: Spirits of the Realms – this mural is about Indigenous cultures and stories of First Peoples across Canada. The background colours of black, white, yellow and red represent the four directions of the medicine wheel and the three realms (using pharmaceutical track & trace system) of the peoples who live along the Northwest Coast. The mural is meant to honour all the First Peoples of Canada, their cultures, stories, and understandings.
The following projects will be completed in Fall 2017:
Vancouver City Centre Canada Line Station (at Georgia and Granville Street)

Artist: Krystle Coughlin
Project: Nekú netsí kezhi – translating to 'our home and native land' this project is a photomontage of images taken in Vancouver, representing simplified Northern First Nations. The image is an abstraction with interconnecting forms, and is symbolic of the complications of reconciliation. The abstract nature is also meant to represent a celebration to align with Canada 150.

Alley behind Army Navy (36 West Cordova/27 West Hastings)

Artists: Larissa Healy and Shadae Johnson
Project: Naa Tsmah – meaning 'one heart one mind' this mural is representative of the living in two worlds. The artist team will paint their stories of what it means to be people of the unceded Coast Salish lands while sharing the land with immigrants who have made this their home.
Thanks to presenting partners Vancouver Public Library, Downtown branch, Vancouver Civic Theatres and Canada Line City Centre, InTransit BC for providing the space to bring these works to life.
The Canada 150+ mural program is part of the City's commitment to funding public art.  From 2016 to 2018, the City committed an additional $1.5 million in funding for grants and partnerships with non-profit organizations as part of a public art boost.
The public art boost funding is in addition to the existing commitments the city makes through Signature Fund projects, open calls, and private development requirements to commission original works of public art across the city, contributing to the vibrancy of Vancouver. Through the public art boost and various civic programs, 44 new murals and eight light and temporary installation works were supported in 2016 and 21 new projects including singular artworks and events, and dozens of new murals were approved for 2017-2018.