Editor's note: This is the ninth post in a series by students at the John H. Daniels Faculty of Architecture, Landscape, and Design. Each piece features an idea for an architectural intervention that would to better connect Torontonians with their ravine system. The designs in this series were created as part of Professor Brigitte Shim's Thesis Research Option Studio or final Thesis Studio. The work and text in this post is by Kristen Duimering whose bio you can find below. Her project, Adaptive Archipelago builds on work she did for her Thesis Research Option Studio, which looked at Crothers Woods in the Don Valley Ravine.
Adaptive Archipelago investigates the ambiguity between what is 'artificial' and what is 'natural' along Toronto's Eastern Waterfront, while exploring the design of multifunctional civic infrastructures.  The aim of this project is to make education and awareness the driving factors in the creation of a new, immersive public realm along the waterfront of Ashbridge's Bay Treatment Plant. This new public realm would bridge current barriers to public movement, allow for necessary expansion of the treatment plant, and, in time, provide ecological habitats that extend the Leslie Spit's 'urban wilderness'.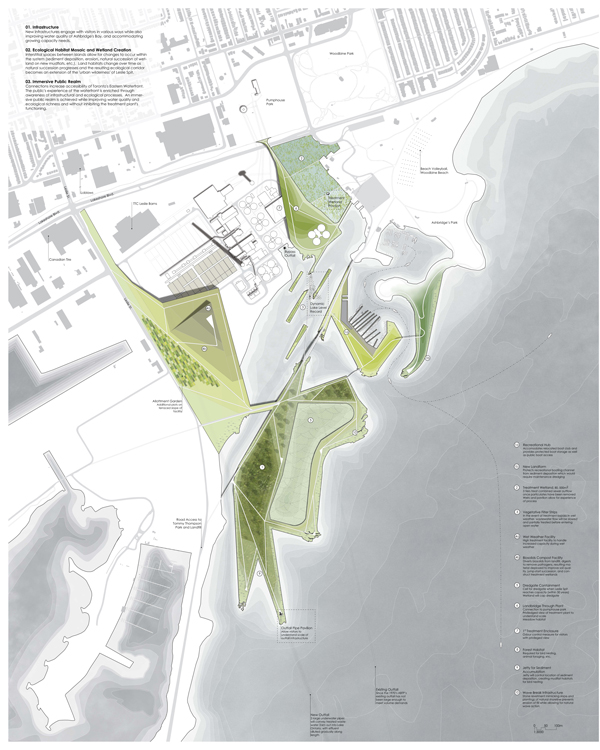 When Toronto's Ashbridges Bay Wastewater Treatment Plant was first built in 1910, it was built on the edge of the city with an "out of sight, out of mind" mentality. As Toronto has expanded to surround the plant, prohibitive fencing has separated this vital piece of infrastructure from the city and distanced residents from the important role this treatment facility plays in our city.

Adaptive Archipelago proposes a series of lake-filled islands that provide space for new infrastructure, an immersive public realm, and ecological habitats. The design allows people and water to flow through the site, allowing the public to establish a relationship with the treatment infrastructure. The islands will be constructed over time using excavated fill waste and biosolids from the plant, thus turning wastes into productive material.  

Once this framework of functional islands is created, it will be left to dynamic processes — such as currents, natural succession, and changing lake levels — to become fully realized as an ecological habitat.  Topography will physically separate plant processes, but also allow for tactile experiences, privileged views, and inner glimpses of these processes. "Invisible Infrastructures" are also highlighted by slowing visitors' movement through certain areas of the site by the placement of above-ground structures.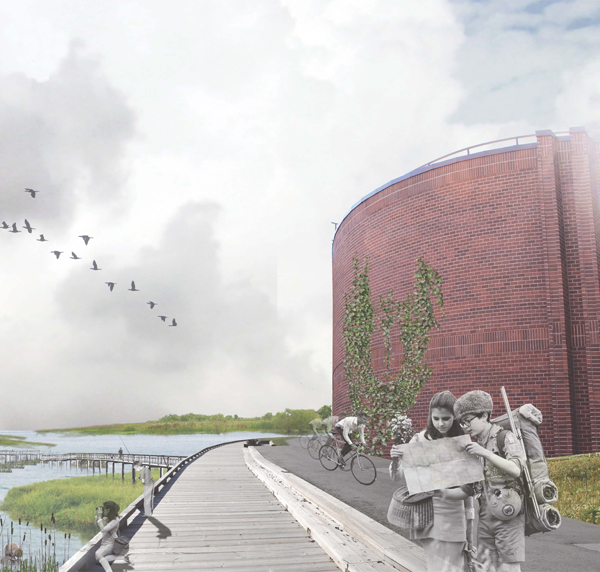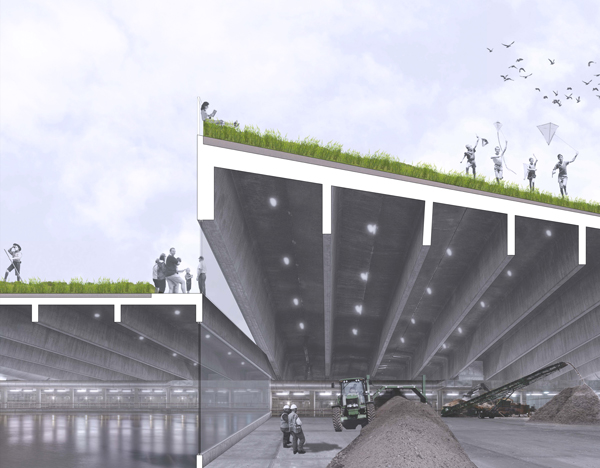 A pile installation would act as a dynamic lake record through seasons and decades; a pipe installation would allow visitors to understand the scale of outfall pipes into the lake, and a bird blind pavilion would serve as a rest stop in the middle of a storm water treatment wetland.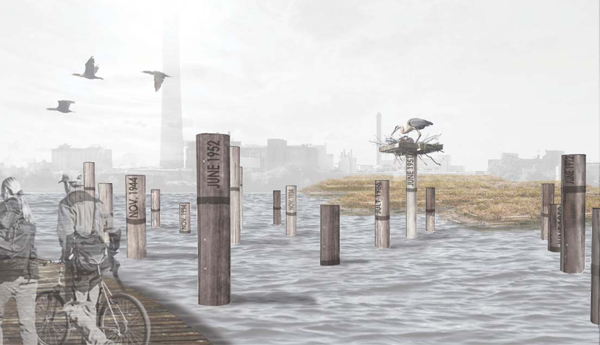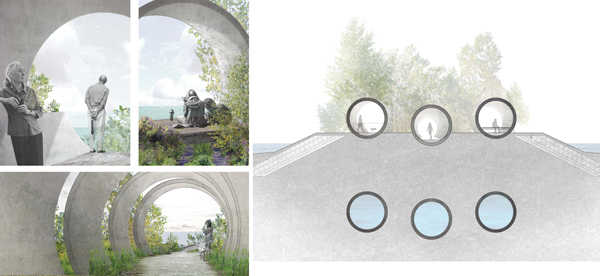 Existing plans for Lake Ontario Park still treat Ashbridge's Bay Treatment Plant as an invisible 'no-go' zone.  This proposal is a vision for an alternative to the Lake Ontario Park Plan, and questions the current paradigm of implementing new parks and civic infrastructures as separate or even competing waterfront programs.  If we can integrate the desire for a public waterfront with the proposed expansion of wastewater infrastructure, it would lead to a more cohesive and functional waterfront vision.
Kristen Duimering is a graduate of the Daniels Faculty of Architecture, Landscape and Design at the University of Toronto with an interest in the impact of cities on their urban watersheds. Her thesis investigated the future of water infrastructures in growing urban centres and ways in which new public spaces can be integrated into essential new water infrastructures (sewers, treatment plants, runoff remediation, etc.) required by a growing population. Daniels Facutly member, Professor Brigitte Shim was her thesis advisor for her Thesis Research Option Studio in the Winter of 2013 and her Thesis Advisor in the Fall 2013.
Earlier posts in this series: