Editor's note: This is the tenth post in a series by students at the John H. Daniels Faculty of Architecture, Landscape, and Design. Each piece features an idea for an architectural intervention that would to better connect Torontonians with their ravine system. The designs in this series were created as part of Professor Brigitte Shim's Thesis Research Option Studio or final Thesis Studio. The work and text in this post is by Federica Piccone whose bio you can find below. This project builds on work she did for her Thesis Research Option Studio, which looked at transforming a big box store on the edge of the Don Valley Ravine into a nursery, trail user club, and nature interpretive centre.
South Western Ontario's greenbelt is one of the world's largest preserved areas, protecting farmlands, forests, and wetlands from the pressures of urban development. The greenbelt intersects with four major watersheds and a range of habitats contained within them. These watersheds provide essential eco-services such as water filtration, waste treatment, and flood control.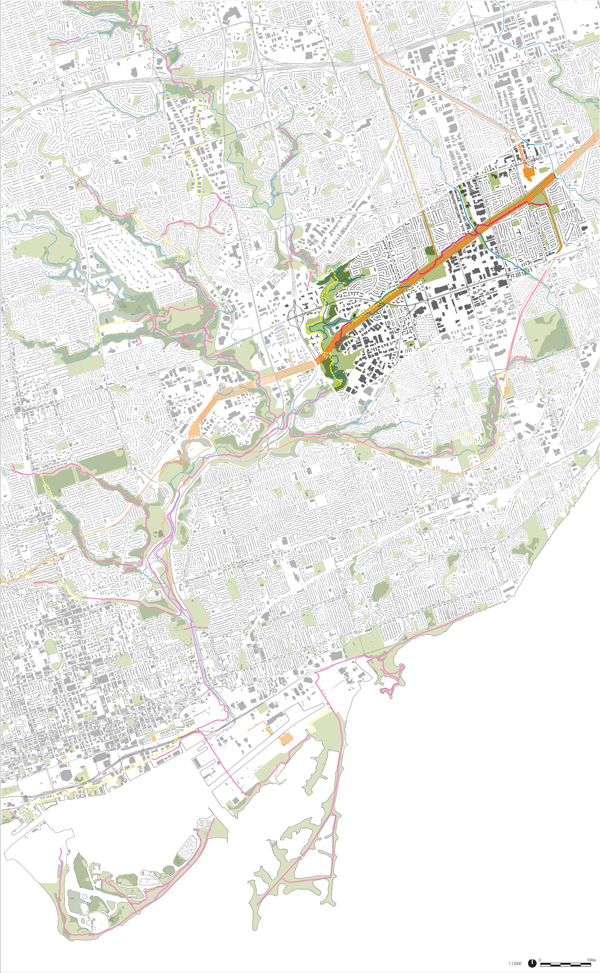 As cities continue to grow and draw on these resources, there will be increasing challenges associated with maintaining productive farmland and healthy and intact watersheds. The hydro corridor is an extensive manufactured landscape foreign to the urban fabric and the ravine system it crosses. The constant maintenance and control of vegetation growth along the corridor has resulted in it being a mono-cultural landscape, lacking biodiversity.
With limited area to expand, one solution is to look to one of the largest infrastructure networks of overhead high power transmission lines for opportunities for urban expansion while simultaneously offering increased biodiversity. Without concealing the artificial nature of the corridor, this thesis addresses water and food security by layering different uses to its previous singular condition, enhancing social, cultural and natural capital with green infrastructure and productive landscape and recreation.
The Gatineau corridor is one of the longest and widest tracks of transmission corridors that crosses the city of Toronto. The area highlighted on the map above is the testing ground for this thesis.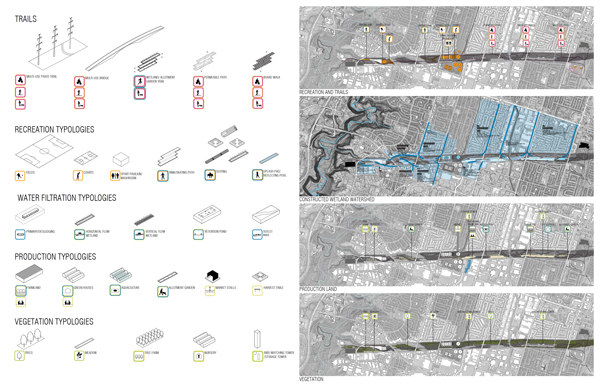 The transmission corridor could contribute to the social, culture, and natural capital that exists in the Don River watershed.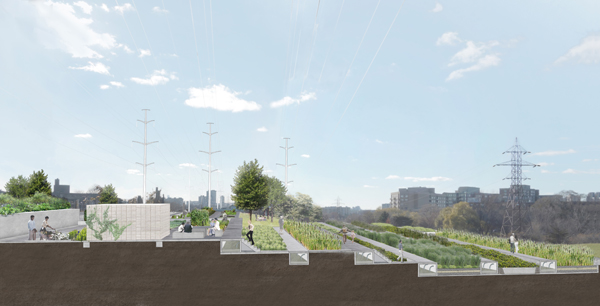 Wetland cells could filter grey water from adjacent buildings and provide an irrigation system for allotment gardens.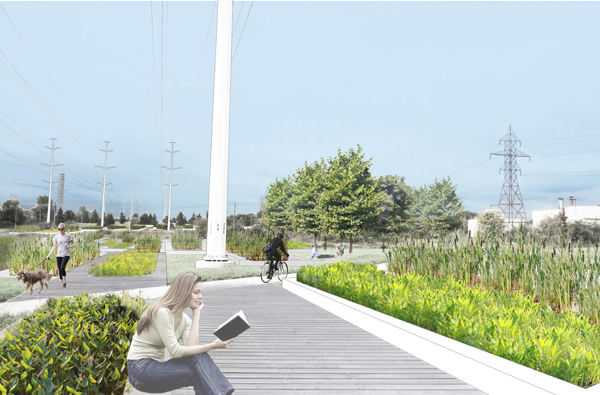 Introducing native vegetation to the corridor could enhance the biodiversity of the watershed system.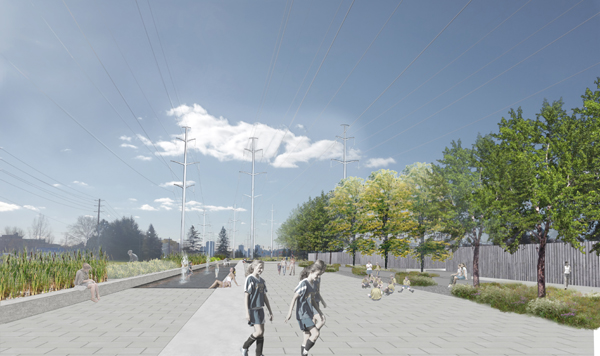 Constructed wetlands could also become areas for winter recreation.

Federica Piccone is a graduate of the Daniels Faculty of Architecture, Landscape and Design at the University of Toronto with an interest in better integrating landscape and architecture. Her current thesis involves finding potential in wasted landscapes of former industrial or landfill sites in the creation of social, cultural and natural capital. Daniels Facutly member, Professor Brigitte Shim was her thesis advisor for her Thesis Research Option Studio in the Winter of 2013 and her Thesis Advisor in the Fall 2013.
Earlier posts in this series: