Last week a brilliant piece appeared in the New York Times about commercial advertising in public spaces and what the author describes as "the aggressive appropriations of the attentional commons".
That got me thinking: I should probably write the next installment of this saga about aggressive appropriations of public space in Toronto. Here's a quick summary so far:
Part I (June 2014): Surrounded by trees, two massive illuminated commercial billboards dominate a slice of green space, adjacent to a public park and a heritage site. Ten years ago, I asked city staff if the signs had proper permits. The answer was crystal clear: "We have researched these two signs and we have no records of any permits. …Our contractor is in the process of having the signs removed". They were never removed.
Part II (July 2014): The City refuses to explain why the billboards are still there, using 'confidentiality' as an excuse which flies in the face of all the basic principles of any functioning democracy: transparency, accountability and access to information.
Here are two questions I asked in the prior posts, still unanswered:
1) How long should it take for a citizen in Toronto to determine if a commercial billboard is legal or illegal? (Ten years, and counting…)

2) Can City Hall protect our public spaces? Or are they powerless against the lawyers and consultants of the outdoor advertising industry which continues to use public space as their own playground, cluttering our scenery with visual garbage?
Here's what I can tell you: Some helpful staff at City Hall's Sign Unit are trying to sort out the situation. But it seems that the entire system is failing them, just as it failed me.
This is the most recent response I've received from :
"To put it simply, we are in a position where we do not know if there is a permit for the signs at 25 Burnside. As a result we cannot take any enforcement action on the signs at this time, however we will not be closing our investigation either. I appreciate that the answer "we don't know" doesn't give you a lot of satisfaction (it doesn't give us much either!); however, it is what our position is for the time being."
Legally, the onus is on the billboard company to provide evidence that there's a permit and that clearly hasn't happened. So it's unclear why the city isn't taking action against the company. As I wrote in the previous piece,  I believe the most likely scenario is that the billboard company is threatening legal action, behind closed doors, and the City feels trapped. The only way out for City staff is to somehow prove that there is no permit. Which is kind of impossible. It's been said that finding a needle in a haystack is a hard thing to do, but proving that a haystack doesn't have a needle is much harder. But they're trying anyway, and they've invited me along to help out.
This is how it works: We go to the Toronto Archives, and we read through the minutes of City Council meetings. Really. I'm not joking. We're actually going through a decade's worth of public records, to prove that one particular item doesn't exist. We're not reading every word, of course. We're relying on the indexes, looking up the street address, looking for any reference to the billboard company and looking closely at every single reference to any sign application in the city.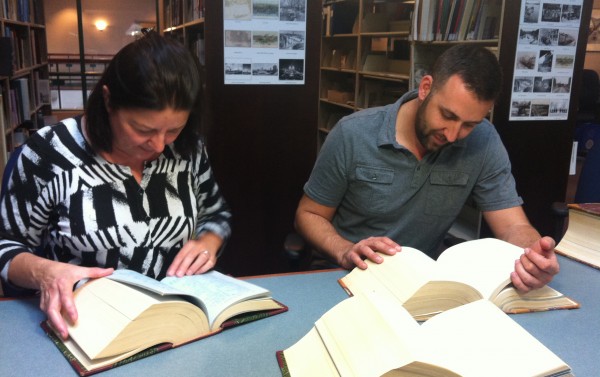 So far, we haven't found a needle. But there is more hay to look through.
It gets a little complicated because these records are pre-amalgamation which means there are two sets of minutes for us to look at: The former City of Toronto and Metro Toronto. We've pretty much exhausted the Metro minutes, and we're quite sure there's no permit there. Every sign application for Metro is clearly indexed and clearly explained, and there is no reference anywhere for this sign. We know that these two signs were installed in 1963 or 1964, so we looked at records covering 1958 to 1965 – just to be safe. No needle was found.
But now it gets even more complicated. Metro was in charge of big roads, while the former municipalities like Toronto, Etobicoke, Scarborough, etc were responsible for the smaller residential roads. These two billboards are clearly on Bathurst Street, which means that the permit should have been given by Metro Council, not Toronto Council. Except the billboard company did a funny thing. Somehow, the property is legally registered as an address at 25 Burnside Drive, even though it doesn't seem to touch Burnside at all.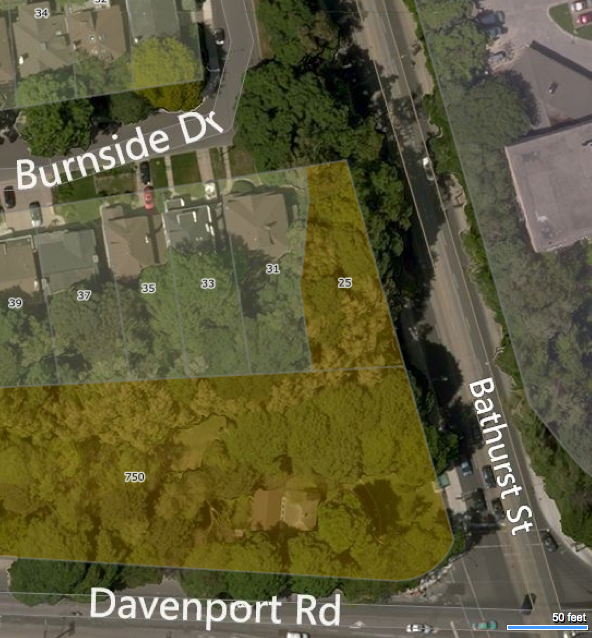 No other piece of the forested hill is registered as part of Burnside, just the small slice with the billboards. And it's unlikely that the property was originally surveyed as part of Burnside, since it's entirely on a hill and not suitable for residential development. The address is also out of sequence with its neighbours. It's as if the sign company had a special land severance created just for them, the exact size they needed, and with a street address that would get them under the radar of Metro.
Perhaps, at the time, Toronto City Council was being more friendly to billboard companies than Metro was. Or, perhaps the City of Toronto wasn't even paying attention to signs. There seems to have been a lot of debate back then about which jurisdiction should regulate signage, and there also seems to be a pattern that Metro was more strict with the outdoor advertising industry. Here's an example, from the Metro minutes: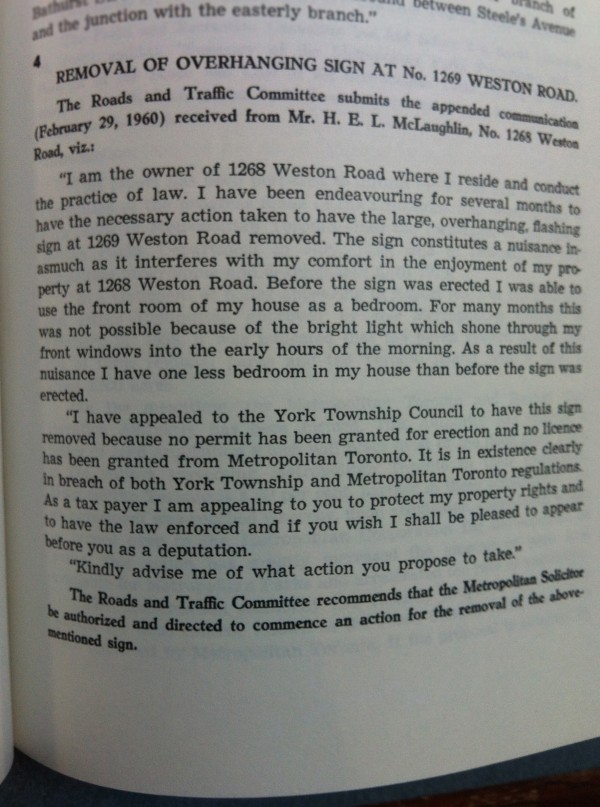 Metro Council was working in the public interest, by regulating signage and enforcing their rules. Was the City of Toronto? We'll find out. I'll be back at the archives soon, looking through more minutes from Toronto City Council meetings trying to find something that I'm quite sure doesn't exist.
The task is enormous. Remember the final scene in Raiders of the Lost Ark?
A few years ago, I was coordinating a team of volunteers who were researching the history of Toronto's Bureau of Municipal research, and I made this Raiders-themed video as a tribute to the Archives:
I love the Archives. I think it's one of Toronto's greatest treasures. But something is deeply wrong with our democracy, when someone has to go to the Archives to prove that a particular paragraph isn't on the shelves. To find an Ark that was never placed there.
In the meantime, the commercial billboards are still standing on Bathurst Street and Outfront Media continues to profit daily from their 'aggressive appropriation of the attentional commons'.
NEXT: Part Four