Chicago is often referred to as Toronto's closest sibling. Built in similar times, with similar sizes and populations, there are obvious similarities between the two. But we are by no means twins.
One of the most striking differences between the two are their street grids. Below, I've taken a few locations to illustrate the difference. All images are at the same scale and with Toronto rotated about 17 degrees (as commonly represented, with Toronto's north border horizontal). Keep in mind that I have stripped the images down to show only the street grid.
Case 1. Downtowns (Left – Downtown Toronto. Right – Downtown Chicago)
Toronto's downtown grid looks pretty regular except that many of our east-west streets don't continue through the city. (See Dylan Reid's post "Toronto is not a grid")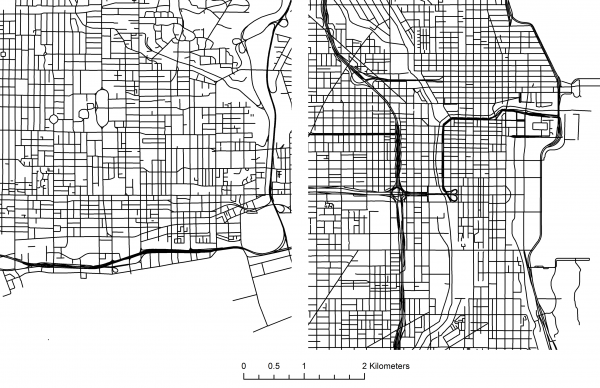 Case 2. Suburbs 1. (Left – Central Etobicoke. Right – South Chicago)
Toronto's streets curl and curve, also accommodating Mimico Creek (the blank stretch) and Highway 427. Chicago's seem to almost ignore the highway passing through.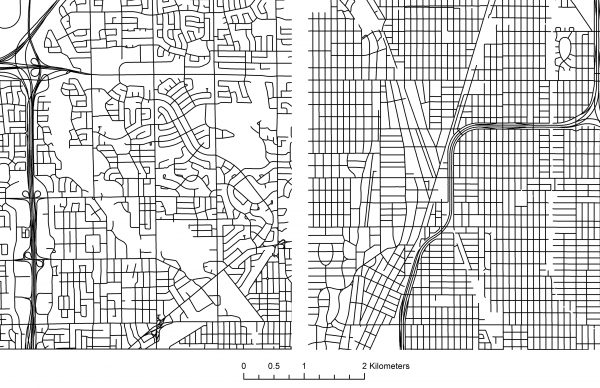 Case 3. Suburbs 2 (Left – North Scarborough. Right – Chicago's West Side)
Toronto's ring roads come out against a stark modern rational grid in Chicago.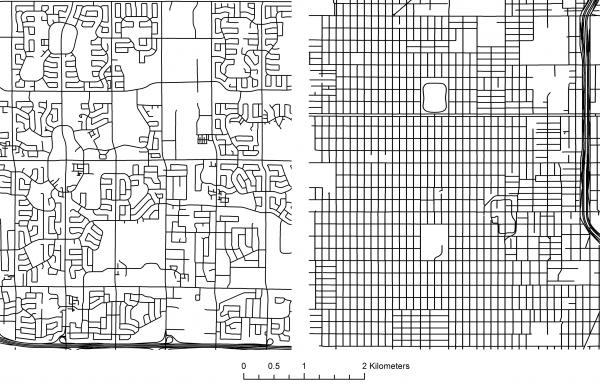 A few things I noticed immediately:
1. Toronto's grid listens to parks and ravines 
One of our great assets is our ravines, and after Hurricane Hazel, we decided not to develop in flood plains. On top of this we have huge green spaces that cut through the grid and fill the city with greenery – the whole 'city in a park' moniker has a physical form. There's almost a sense that open space morphed Toronto's grid, while it seems more installed into Chicago's.
 2. We designed privacy and silence into our suburbs 
The curly craziness that happens in Scarborough and Etobicoke are part of the design of our suburban communities – they were designed to keep traffic out. The streets are mazes, but they are oh-so-quiet. Scarborough and some parts of Etobicoke also have ring roads that surround shopping centres, schools and high rise housing surrounded by detached housing.
 3. We wanted some separation from our expressways 
Chicago depressed and embedded their expressways within communities while Toronto spaced them far away with big grassy buffers. Both probably have their pros and cons, but Toronto seems comfortable using green space liberally.
Different planning philosophies and circumstances led to the creation of different patterns of development. What is most interesting is that these grids are physical records of a variety of decisions that have accumulated over time. Do you notice anything else in these comparisons?