By John Lorinc and Kimberley Noble
The information shouldn't come as a surprise, but the numbers are nonetheless startling.
According to data obtained by Spacing under access to information requests, development in three downtown wards — the eastern portion of Trinity-Spadina, and the two halves of Toronto Centre — generated 47% of all the revenues that flowed into the city's parkland acquisition reserves between 2011 and 2014.
The dollar amounts, moreover, are huge: across the city during this three-year building boom, developers anted up $298.5 million, to be spent on new parks or the development of existing ones. Those three wards (20, 27 and 28) between them produced $142.6 million of that total, thanks in large measure to the forests of high-rise condos that have sprung up south of Bloor in recent years.
What's more, the South District — taking in most of the former City of Toronto and East York – generated 69% of the total parkland reserve revenue in the period we canvassed. Except for growth nodes like Yonge/Eglinton, Lakeshore Road in south Etobicoke and the North York City Centre/Sheppard avenue corridors, the rest of Toronto contributes relatively little to this fund.
To put those skews in context, the developer of a single large project – 1 Bloor East – poured $10 million into the parkland reserve. That figure is just less than the entire amount collected for the three-year period for all of Scarborough.
PARK ALLOCATION FUNDS COLLECTED, 2011-14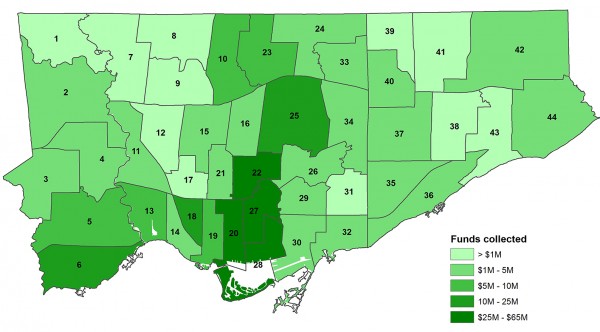 What's far less clear is what ultimately happens to all the money that pours into the city's rapidly growing parkland reserve funds. The policy framework for spending those dollars is complex and, despite drastic changes in the real estate market, hasn't been updated in well over a decade.
City staff occasionally release reports with updates on the state of the parks acquisitions programs in response to requests from council, and also there's information on the sums held in various parkland acquisition reserve funds buried deep inside the capital budget. But there's no analysis of where the money comes from, how it is spent and whether these investments in Toronto's public open spaces conform to council's long-standing parkland provision policies, which are laid out in the Official Plan.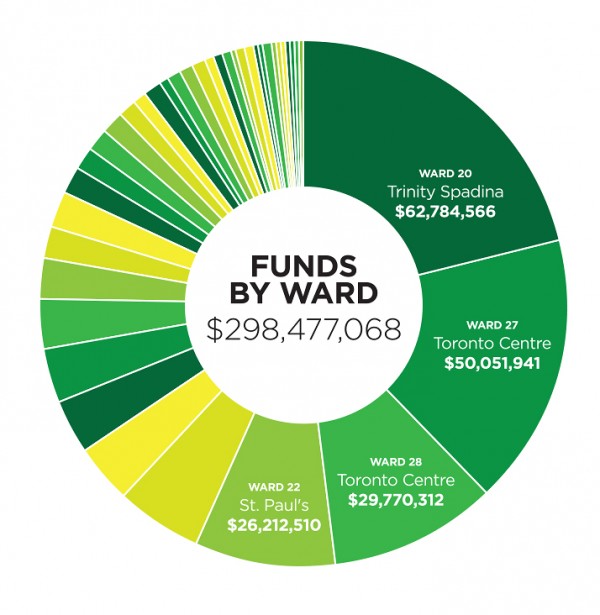 Spacing has examined years of detailed city data on these levies and the associated parkland creation. One conclusion is glaringly clear: that despite the huge sums generated by downtown development, and the associated population growth, the municipality has created a scant amount of new park space in these intensifying downtown areas, which, according to the city's 12-year-old "parkland provision" map, are deemed to be deficient in public open space.
Between 1998 and 2014, the City of Toronto created 242 hectares of new park space – an area about two-thirds the size of the Toronto Islands. The total includes everything from playing fields and community centre land parcels to bits of ravine slope, trail improvements and seating areas on downtown street corners.
But according to the city's breakdown of all new parkland created since amalgamation, just 15% (in terms of area) is situated in South District. Waterfront Toronto's new parks — Corktown Common, Sugar Beach, Underpass Park and Sherbourne Common, as well as a large sports field in the Portlands — account for a significant portion of that figure.
More problematically, the pace of new park creation across Toronto has slowed sharply since the 2009 recession, even though the building boom has ramped up. In the first decade after amalgamation, the city added, on average, 19 ha of parks per year. Since 2009, that figure has dropped by half, to 9.2 ha per year.
The story gets even more discouraging in the intensifying core area that corresponds to the old City of Toronto and parts of York and East York. Across the South District, as this region is known inside the civil service, the city established just over 6 ha of new park space during the past five years; much of that total involved transfers of land from other public agencies. Since 2009, developers building in South District dedicated just under 2 ha. Meanwhile, the city used its parkland cash reserves to acquire only 0.7 ha across all of South District between 2009 and 2014. For context, Nathan Phillips Square is 1.2 ha.

Table 1: New parkland since 1998, broken down by land dedications by developers; acquisitions of land by the city; and transfers of real estate from other agencies. South district, which includes the former City of Toronto, as well as parts of East York and York, accounts for just 15% of all new parkland – 36.9 hectares — added since amalgamation.
| | | | | |
| --- | --- | --- | --- | --- |
| | Total | 1998-2008 | 2009-2014 | South District (1998-2004) |
| Dedications | 63.1 ha | 57 | 6.1 | 12.8 |
| Acquisitions | 62 | 53.3 | 8.7 | 12.5 |
| Transfers | 117 | 81 | 31.2 | 11.6 |
| Total | 242 | 191.3 | 46 | 36.9 |
(Source: City of Toronto)

Council has never seen this analysis because no one's ever asked for it before.
The last significant staff report presented to the decision-makers was tabled in October, 2013. Between 2010 and 2013, according to that analysis, officials acquired a dozen parkland sites (7.42 ha) across the entire city, and spent just $25.9 million on those purchases. Yet only one – a parkette at St. Joseph and Bay, acquired for $600,000 in combination with a land dedication by a large developer – was in South District. "The last large purchase of parkland in the South District was 90 Lisgar [in the West Queen West area]," the report added. "That purchase of 2,960 m2 of park space was made in 2008." The price-tag: $6,149,600.
The picture is noticeably different in low-density suburban areas. The most costly site acquired between 2010 and 2013 was a 2.5 ha school yard off Sheppard Ave. W., between Bathurst and Wilson Heights. Its purchase price: $7.5 million.
(Council last year approved four more park acquisitions. One is a lawn bowling field and church lot near Mount Pleasant and Eglinton. Another is the latest addition to an assembly of parkettes just east of the North York City Centre corridor. The two others include the 0.6 ha park negotiated by Kristyn Wong-Tam at 11 Wellesley, and a 2 ha plot behind a North York school near Wilson and Highway 400. None of the prices were disclosed.)
Funds spent for parks acquisition since 2009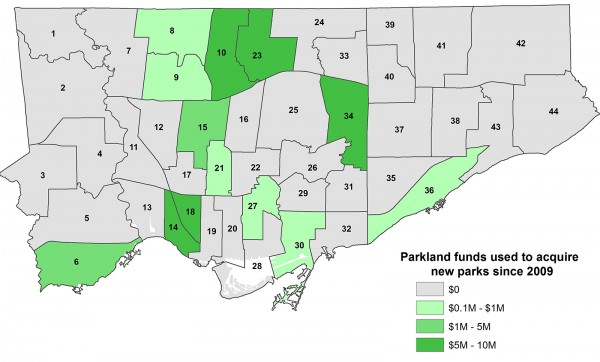 So what's become of the tens of millions sitting in the parkland reserve funds and earmarked for the expansion or enhancement of the city's green spaces?
According to council's 2014-2022 capital budget for parks, forestry and recreation (PFR), the city doesn't intend to reverse the dramatic decline in parkland acquisition. During that period, the city will spend $10.8 million on land purchases, compared to $108 million on park development projects. That's a ten-to-one ratio, even though half the parks levies collected by the city is meant for park acquisition.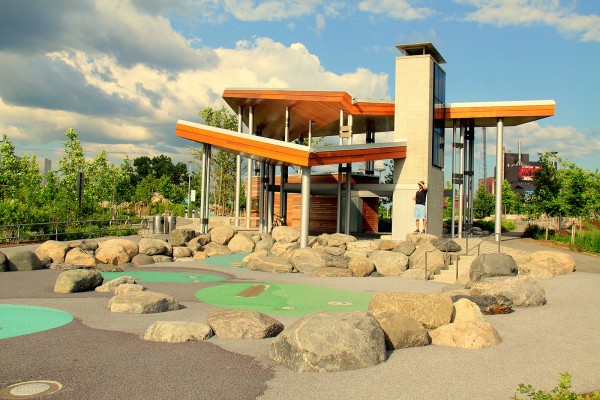 The reasons for the discrepancy are both subtle and obvious.
Internally, PFR's parkland acquisition team consists of just three people, including one administrative assistant. This tiny unit is responsible for identifying, appraising, and purchasing parkland across the entire city. The parks planning team is somewhat larger, but there are still only a handful of landscape architects assigned to design parks for an entire city. The group must also scramble to deal with unexpected events, such as flood and ice storm damage. With so few civil servants assigned to implement the policy, it's little wonder the deal flow has slowed to a trickle. "If somebody said, 'here's $100 million, let's go,' — there isn't the staff to execute those kind of projects," observes one city official.
As well, says another source with close knowledge of the city's planning processes, PFR officials consistently raised objections in recent years to the creation of new parkland absent clearly identified sources of operating funds to cover maintenance and personnel required to manage those new assets. "They didn't want new parkland because they couldn't afford to maintain what they had already. Unless a new park had money for maintenance, they weren't interested."
Yet the over-heated state of the property market, especially in desirable areas, accounts for the most significant explanation for why the city isn't buying land in the parts of the city that need it most. PFR officials have to sign off on every development application, but a dearth of nearby open space will never be a deal breaker. Moreover, each application, PFR officials told me, is judged individually; city staff don't assess the aggregate impact of high density development in a given area — e.g., King West — on the supply of open spaces in the vicinity of those projects. (As anyone who's recently visited the increasingly crowded lawns at Trinity-Bellwoods Park on a nice day can attest, the cumulative affect of high-density development in the area is difficult to ignore.)
While the balance in the parkland acquisition reserve fund has grown significantly in recent years, PFR officials also say the city can't compete in a highly speculative downtown real estate market where an acre of land sells for anywhere from $30 to $60 million.
Moreover, the City of Toronto Act forbids the municipality from offering bonuses to builders or paying more than the appraised value of the land, even though market prices are considerably higher. As a senior PFR official told me, "We really struggle to buy sites that are appropriate and have a willing seller."
Part 1: All built up but no place to grow
Part 2: Where the money flows
Part 3: The perils of cash-in-lieu
Part 3 sidebar: Section 42 explained
Part 4: The tale of two parks
Part 5: The system worked (slowly) for a west end park
Part 6: Are privately-owned public spaces the answer to parks deficit?
top photo by Neal Jennings; middle photo by Wylie Poon; all maps by Sean Marshall